DX Leadership Simulations
Inclusive leadership training to get things right in a learning environment ready for the business world.
Welcome to our dose of leadership training humble pie.

This is all about setting up a psychologically safe training ground. Preparing leaders for the day-to-day challenges of effective, people-first leadership in your organization.

It's uncomfortable leaving the old, familiar ways behind. Yet, necessary.

In these programs, leaders learn highly tuned people-skills by becoming aware of their own limitations.

Their assumptions of effective leadership are challenged in an environment where it's safe to make mistakes.

Leaders leave with a higher level of self-awareness, a new outlook on modern leadership, updated soft skills, and habits grounded in people-first leadership that will strengthen your organization.

It's a hands-on experimental leadership training. And it works.

"The knowledge retention rate for employees who go through traditional learning is only five per cent, whereas the retention rate from experiential learning can be as much as 90 per cent."–Entrepreneur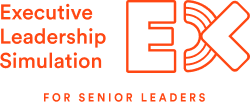 Where Leaders Learn More
There is always room for improvement, no matter how long your leaders have been leading.

In fact, the longer they've been in charge, the more hardwired their leadership blindspots can become.

Time for a leadership reboot.

EDX for Senior Leaders focuses on taking a good hard look at senior leaders' people first skills. We'll help them better engage with their team and each other at all levels.

How? We turn the tables on your leaders and test them to see if they have what it takes to be people-first leaders.

They are judged in real-time by their peers, coaches, and facilitators.

Your leaders leave with a greater ability to think strategically and bring their team with them to achieve even better results.
Learn More
Giving High-Potential Leaders
the Right Tools
Pick out your brightest. We'll make them shine even brighter.

This is a two-day immersive people-first leadership training that will put them through their paces.

Here, we'll find out how much potential they really have by observing how they act in a real-life leadership simulation.

To motivate talented future leaders, we'll develop their self-awareness and humility.

We'll shine a light on those bad leadership habits that are holding them back. We'll also turn up the heat.

They will learn to make strategic decisions in a high-pressure environment, while keeping their teams motivated and performing at a high level.

Through real-life exercises, they get to iron out their mistakes and become ready for a
promotion.
Learn More

Let's Get You Ready to Lead
Leadership is difficult. Great leadership is learned.

For those first time first-time leaders, soon-to-be-leaders, or middle management let's make sure you don't let them loose without some support.

Let's get rid of the 'fake it till you make it' idea and start them off on the right foot. We give managers first-hand, simulated experience of what it is like to lead effectively.

Leadership must be taught and experienced. The transition from doer to leader doesn't come easy. You're now elevated from your peers and need to learn that it isn't a popularity contest.

This course is all about rolling up your sleeves and learning how to build and lead teams. The best way to do this is through immersion in a course that encourages self-awareness and improvement.

Your new leaders leave this course feeling comfortable directing teams, delegating, letting go of control, and giving effective feedback that facilitates growth.


Learn More
Learn a Better Way.
Reach out to the DX team today