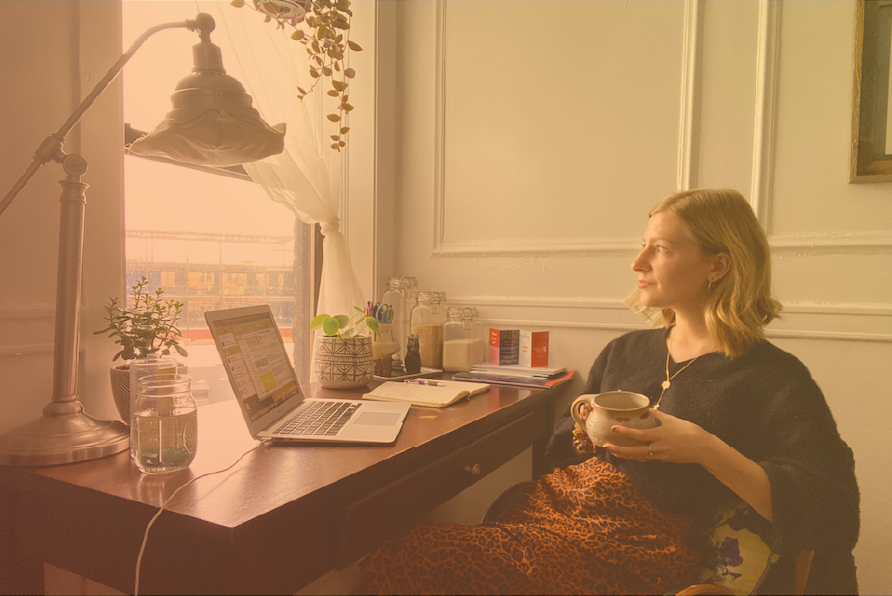 Working From Home: Challenges, Solutions, & DX's Creative Home Offices
Working from home can have both positive and negative effects on an employee. One of the biggest challenges of working from home is that people work more hours because they are not in the office with (positive and negative) interactions with colleagues. But missing out on the distractions also means missing out on the relationships, the nuance, the creative ideas, people!
As a leader, you need to work harder to build those relationships and to make sure people are noit feeling isolated. To show them that you care.
A person working from home may feel isolated as they do not experience any office interaction. Moreover, it might make them more prone to distractions since there are no colleagues able to jump on them when they daydream or get caught up in an obsession.
From the variety of the desks we're sitting at to the challenges we're facing working from home, the DX Team remains solutions-oriented and is happy to share strategies our team is implementing as we navigate the new normal.
Here are some of the tips, tricks, challenges and opportunities we've experienced since working from home.
Working from home: Alex Draper, CEO
Challenge: "Sneaking" down to do some work at times I used to not. I now seem to work even more hours and eat into family time than I did before.

Tip: I try to have defined work hours and defined family time, with breaks to escape. Lots of breaks and short sharp bursts of work.
Working from home: Matt Sandel, Director of Design
Tip 1: If available, make your home office area ONLY for working. Your brain associates the different areas of your house with different neural pathways. Just like your bedroom should be associated with sleeping to catch those elusive Z's, if you make your work area only for working, your brain will set itself to "working mode."

Tip 2: If you have pictures or toys in your work office on your desk, emulate that at home. It is all about reframing your brain to "work mode."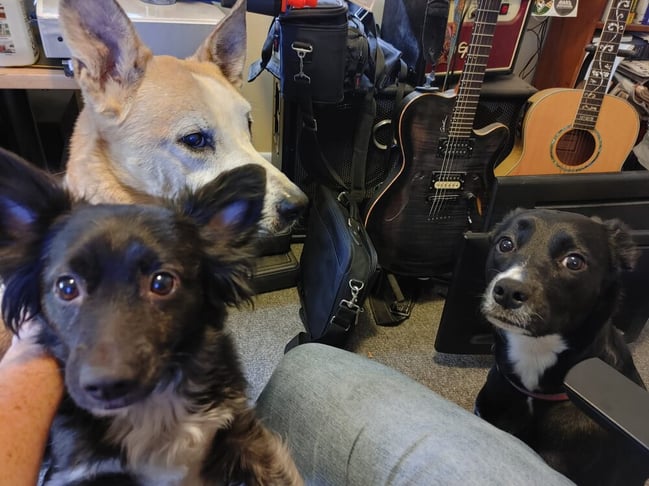 Working from home: Kristin Dammacco, VP of Operations
Desk: My husband and I are sharing his home studio as an office now. Essential components of my desk (a converted production desk):

1. Tactical Nerf Gun in an easily accessible spot for defense.

2. Multiple screens! I have 3 if you count the laptop.

3. Coke 0 at all times (coffee is an acceptable substitute)

4. Candy. There is also a tv behind me I turn on purely for (literal) background noise.
Challenge: Reality is, I don't remember if I brushed my hair this am, no makeup, and an old t-shirt. WFH with kids and dogs is HARD!

Tip: Create a schedule. It's flexible and it's ok if everything does not go to plan, but just having a plan and a routine really, really helps.
Working from home:
Audrey Hebson,
Director of Program Management
Challenge: It's been tough managing when both my husband and I are on conference calls at the same time in a small apartment!

Tip: I try to get outside for a midday break when it's nice out. It clears my head and breaks up the day a little bit.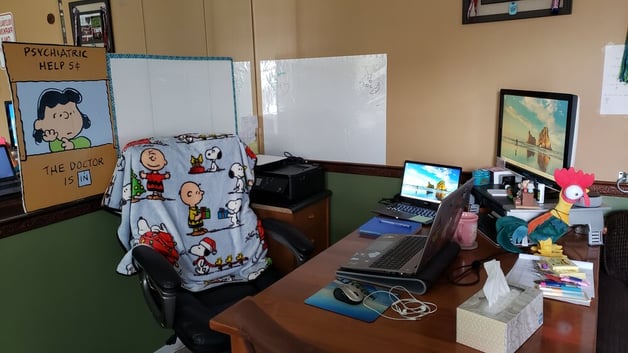 Working from home: Kim Pittman, Logistics Coordinator
Challenge: Learning to balance with everyone home doing work or schoolwork and not disrupting each other. Kids have a hard time with not being able to get out and see their friends. I don't think we are taking enough consideration into how they are feeling with all the uncertainty that has been going on with school and what they are dealing with - like classwork, tests, and finals if this should draw on longer. They want us to be there for them just to hang out, watch a movie or play a game and we have to find a new balance of work and reassuring them that the world is not ending, it just feels like it.

Tip: Keep breathing and think of it as staying safe at home not stuck at home. As far as work goes, work when you can. Take breaks when needed. Go outside to soak in the sunshine and breathe in the spring air. Everyone needs to do that for their own mental preservation or our brains are going to shut down!
Working from home: Ryan Aguiar, Leadership & Development Designer
Challenge: Sharing this tiny space with my girlfriend and her dog. We've had to get really organized and be respectful of when the other is on a call.

Tip: Gaming headsets are great for remote meetings. For the most part, they are lightweight, comfortable, noise-canceling, and most have mic monitoring to filter out background noise. You get to focus more, and everyone else gets less background noise. Added bonus: it flattens out your bed head.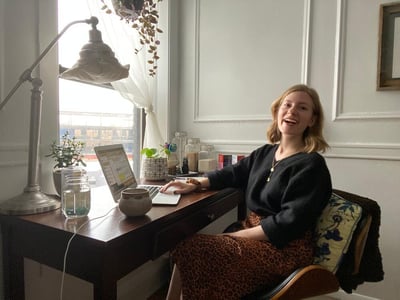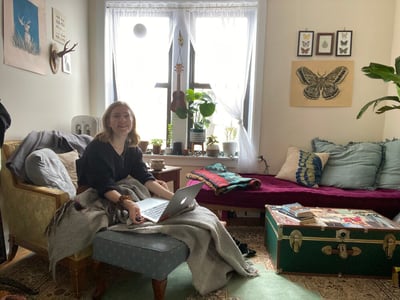 Working from home: Emily Markanich, Director of Sales Support & Marketing
Desk: I try to keep to the desk in my kitchen most days but if I'm struggling to focus or need to lounge while doing more creative work, I'll change my environment and go into my "living room".

Challenge: Working from home in my studio apartment has definitely blurred the lines around when to start and stop working.

Tip: Every morning I write out my schedule in 30min time chunks and include a hard start/stop time. I also incorporate dressing for work and changing after work into lounge clothes to better shift my mind from work-mode to home-mode. I don't always follow through and some days I definitely slip-up, but the days I do follow through are usually my most productive days.
Creative Home Office Ideas
For more ideas on how to create a home office that sparks your productivity and that of your team, check out this great article from Architectural Digest. There are a lot of very cool chairs in these pics!